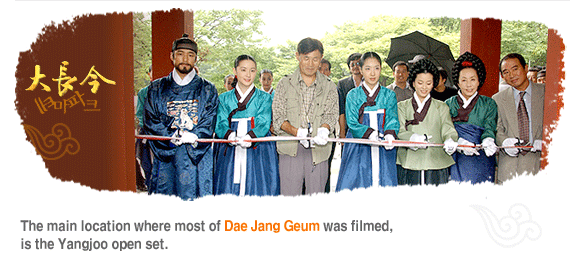 The outdoor set has been restored to exactly the way it was when the drama was produced there and renovated into a theme park which offers, in addition to the existing facilities, a variety of events and programs for visitors to see, enjoy and experience. At long last, it is now open for tourists and fans of the mega hit drama. MBC¡¯s Yangjoo Culture Valley has long been the most popular host of outdoor drama sets where many MBC dramas have been filmed. Two of MBC¡¯s best hit history dramas, Sang Do(Business Ethics) and Huh Joon were also shot here and it was the main location for dramas like Wang Cho and Gook Hee. Currently, other dramas including the Time of Heroes and entertainment programs such as Time Machine are being produced here..

The theme park spanning 2,000 pyong square meters(1 pyong is equivalent to 3.3 square meters) within the Yangjoo Culture Valley located in Mansong-dong, Yangjoo City, Gyunggi Province, consists of 23 independent facilities including Dae Jeon(king¡¯s residence), Dae Bi Jeon(queen¡¯s residence), Soo Ra Gan(royal kitchen) & So Joo Bang(kitchen area within the palace where chefs cook meals for those who work in the palace). Toi Sun Gan, Oak Sa, Gaek Sa(guest house), Sa Ong Won(government authority of the Chosun Dynasty in charge of cooking and food served in the palace), Geum Gae, Sool Do Ga, etc.

In each set, small properties and costumes actually used for the shooting, are exhibited, and some of the drama scenes have been reconstructed exactly the same way they were at the time of filming the drama. In addition, you can watch a collection of drama highlights, PD¡¯s history class, stories of royal food and recipes by Bok Ryeo Han, royal food specialist who provided advice on food for the drama, a collection of NGs, etc. in those sets.

There are also many exciting events such as riding Ga Ma(Korean palanquin), trying on
traditional Korean costumes, playing To Ho Game(a game of throwing arrows into a large jar), experiencing the Gon Jang penalty(a type of corporal punishment of the Chosun Dynasty of flogging a criminal), playing archery games and more. For those of you who want to experience more of the Korean traditions shown in the drama, there are special programs in which you can experience diverse aspects of the Korean culture. Also, there are exhibition rooms where you can take a close look at the Korean royal food and costumes.